About neuromodulators in Victoria.
The anti-aging world was transformed upon discovering neuromodulator treatments, like BOTOX COSMETIC®, Dysport® and Xeomin®, could be used to treat frown lines, forehead wrinkles, crow's feet, overdeveloped jawline muscles and rigid neck muscles. Oh, and did we mention they can relieve migraines and excessive sweating too? With such versatility and a proven record of safety, it's no wonder neuromodulator treatments are wildly popular among Victoria and Vancouver Island residents who want to look more rested and refreshed.
Neuromodulators help with:
frown lines
forehead lines
crows feet
neck
wrinkles & fine lines
sweating
How it works:
As an international trainer and preceptor of advanced injection techniques, and with over 25 years' experience, Dr. Mark Lupin is known for providing outcomes that are elegant and natural-looking. A neuromodulator treatment involves precise injections that relax the dynamic muscles that form expression lines. This treatment smooths wrinkles, and relieves a stressed or tired look that can age our appearance. For Victoria and Vancouver Island patients who are concerned with overdeveloped or rigid jaw and neck muscles, the neuromodulator treatment can be administered to improve facial proportions and refine the silhouette of the neck.
Before
After

*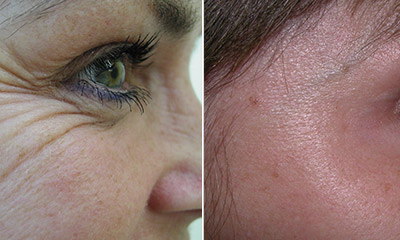 Cost
Starting from $375 per treatment
Number of treatments
Maintenance only
Neuromodulators Frequently Asked Questions