About CoolSculpting® treatments in Victoria.
Unwanted fat can now be eliminated without surgery thanks to the revolutionary CoolSculpting® treatment. Historically, non-invasive fat reduction devices have yielded less-than-impressive outcomes, which leaves many Victoria and Vancouver Island residents wondering–does CoolSculpting® work? The science and research behind this breakthrough treatment authenticates its lasting results; when Harvard scientists discovered that fat cells perished when exposed to extreme cold, they went on to create an innovative body contouring technology that has made losing unwanted inches safe and simple. The best news is that once the fat is gone, it's gone for good.
CoolSculpting® helps with:
body sculpting / body contours
double chin
chin shaping
jawline & jowls
arm fat
bra fat
love handles
abdominal fat
inner thigh fat
outer thigh fat
knee fat
How it works:
CoolSculpting® reviews and endorsements from beauty editors and celebrities alike are a testament to the outcomes that can be achieved in as little as half an hour. Our dual CoolAdvantage™ applicators (think twice the power and comfort in half the time) are applied to the treatment area and a proprietary process called Cryolipolysis® delivers cold temperatures to fatty tissues; fat cells are isolated and eliminated while leaving the surrounding skin structures unharmed. CoolSculpting® can treat a variety of areas where stubborn fat commonly resides including the chin, abdomen, thighs, buttocks, bra-line, and upper arms. As comfortable CoolSculpting® sets to work, patients relax and use the time to catch up on emails, read, or even take a nap! Once treated, the targeted fat cells are processed and naturally cleared by the body over several weeks. Patients return immediately to their daily routines, and as the days pass, the inches drop away to reveal a smoother silhouette. No needles. No anesthetic. No surgery.
Before
After

*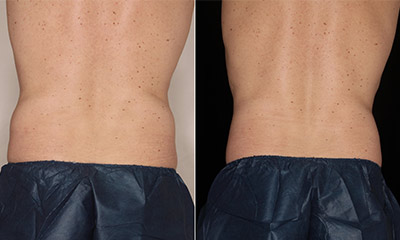 Cost
Starting from $1,000 per treatment
Number of treatments
1 or more
CoolSculpting® Frequently Asked Questions