About dermal filler treatments in Victoria.
Dermal filler treatments, such as JUVÉDERM® and Restylane®, have revolutionized facial rejuvenation with their ability to enhance natural features and correct facial aging concerns and volume loss quickly and comfortably. They are among the top non-surgical cosmetic treatments worldwide for their high safety profiles and trusted formulations. Through our artistic and precise injectable treatments, we restore and apply volume where it is desired, and our Victoria and Vancouver Island patients see an instant improvement with little recovery required.
Dermal Fillers help with:
chin (shaping)
eyes
face (tired look)
facial volume loss
hands
lips
nose (shaping)
scars
wrinkles & fine lines
How it works:
When you start to notice thinning or uneven lips, mouth wrinkles, hollows and folds in the cheek and temple area, or you're concerned with the symmetry and proportions of your facial features, a dermal filler treatment can provide a lasting and natural-looking solution. Dermal filler formulations such as JUVÉDERM® are comprised of a gel form of hyaluronic acid (HA) – an organically-sourced sugar molecule that is naturally produced by the body. This substance is gently eased into the skin to enhance and restore volume, shape facial features, and address signs of aging such as wrinkles and a tired appearance. If it's the look of a weak chin or an ill-defined nose bridge that's bothering you, a dermal filler treatment can shape, sculpt or define your chin or nose without surgery. The lost volume of aging hands can also be beautifully rejuvenated through dermal filler treatments.
Before
After

*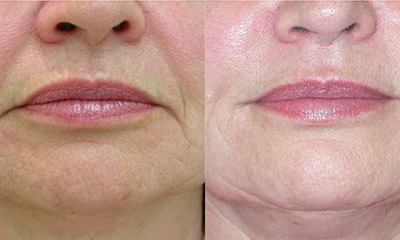 Cost
Starting from $650 per treatment
Number of treatments
Maintenance only
Dermal Fillers Frequently Asked Questions