About Fraxel® treatments in Victoria.
Fraxel® is the pioneer of fractional laser technology providing Victoria and Vancouver Island patients with an effective solution for age spots and sun damage, as well as for textural concerns including acne scars, enlarged pores, fine lines and wrinkles. The Fraxel® laser system is versatile, with applications to address a wide range of skin concerns, spanning superficial fine lines and brown spots to eye wrinkles, pitted scars and precancerous skin damage. Fraxel® laser is a safe and well-recognized treatment to reverse the visible signs of aging and correct skin damage.
Fraxel® helps with:
eyes
hands
brown spots
neck
pores
scars
skin texture & tone
sun damage
wrinkles & fine lines
How it works:
The term 'fractional' refers to a process of breaking up a laser beam into hundreds of 'micro' beams. Only a fraction of the skin is treated at a given time, leaving surrounding tissues completed unharmed to expedite healing and maximize safety; Fraxel® leaves the outermost layer of the skin intact, greatly reducing the risk and healing time involved with traditional CO2 laser devices. Using a 'smart scanning', gliding hand piece to provide an even and precise treatment, the Fraxel® laser targets and treats damaged skin cells and initiates collagen remodeling and synthesis. In the 3-5 days following treatment, damaged skin cells rise and slough away, revealing a more even skin tone and improved skin texture. A series of treatments may be recommended to address more developed skin damage or signs of aging.
Before
After

*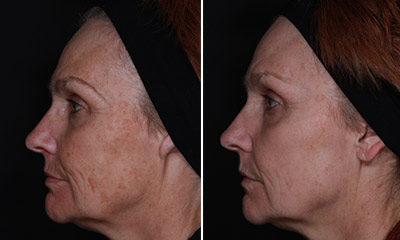 Cost
Starting from $450 per treatment
Number of treatments
1 to 6 treatment sessions
FRAXEL® Frequently Asked Questions