About IPL Photorejuvenation treatments in Victoria.
IPL treatments offer Victoria and Vancouver Island patients a way to safely and efficiently address sun damage, rosacea, spider veins on the face, age spots and acne. Using the M22™ IPL technology by Lumenis, we deliver gentle yet precise and powerful IPL treatments for more youthful, vibrant and healthy skin. This versatile and safe technology can treat both the face and body to correct the signs of aging that affect areas commonly exposed to the sun, such as the neck, chest, arms and hands.
IPL Photorejuvenation helps with:
acne
facial vessels
hands
neck & chest
brown spots
pores
red spots
rosacea
sun damage
wrinkles & fine lines
How it works:
Common aging and sun damage concerns such as uneven skin tone, facial redness, enlarged pores, rough skin texture and dullness are corrected over an initial series of 3-5 IPL treatments, spaced three to four weeks apart. IPL treatments apply pulses of light to the skin. Once this light energy is selectively absorbed by its target (the pigment in age spots and red blood cells in spider veins), the body begins work to eliminate these damaged cells; age spots will first darken then slough away from the skin's surface while targeted blood vessels are absorbed and metabolized by the body. Over a period of four to seven days, the skin is renewed, revealing a more even and luminous complexion.
Before
After

*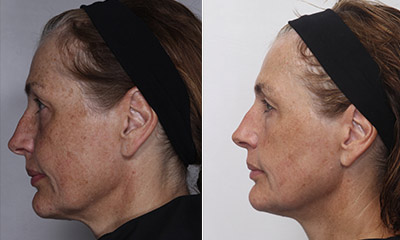 Cost
Starting from $200 per treatment
Number of treatments
1 to 3 treatment sessions
IPL Photorejuvenation Frequently Asked Questions